Discover more from Growth Croissant
A guidebook to growing consumer subscription businesses.
Over 8,000 subscribers
Welcome to a fresh edition of Growth Croissant! 🚀 🥐
I'm Reid, your host on this journey. I've been lucky to be part of incredible teams that launched and grew some of the most well-known consumer subscription products: Hulu, Crunchyroll, HBO Max, and Substack.
Growth Croissant will be an evolving home for our learnings, painful lessons, and frameworks for making hard decisions. My goal is to deliver you a comprehensive and actionable guidebook on how to grow your business.
---
Hello friends,
In our last post, we covered how Alex Xu and ByteByteGo have set up a systematic approach to sharing to LinkedIn and Twitter, creating a consistent inflow of new subscribers. But of course, the value of sharing extends beyond LinkedIn and Twitter, with one platform rising quickly in importance: Instagram.
With over 2 billion people using Instagram each month, it's become arguably the most valuable platform for building an audience. Over time, Instagram has gradually morphed from a way to see photos from your friends, toward seeing videos and images from strangers. A few interdependent factors are driving this shift:
Reels (Instagram's TikTok-style video feature) have become a more pervasive part of the Instagram experience, generating more than 200 billion views per day. 

Instagram continues to shift more weight toward algorithmic recommendations to determine what people see when using the app.

Sharing within Instagram is integral to the experience, allowing images and videos to spread quickly beyond an account's followers.
On the last point, sharing within Instagram is the key to unlocking step-function growth in new followers. I saw this first-hand with my partner Dee, who runs an Instagram account for our dog Tycho. Dee has posted over 100 Reels — the one Reel below is responsible for over 80% of Tycho's followers.
These dynamics are turning Instagram into a compelling platform to expand your audience and add new subscribers, and many Substack writers are already tapping into this opportunity. My colleague
has put together the definitive guide on how to build an audience on Instagram and turn followers into subscribers:
Let's review a few more examples of writers sharing from Substack to Instagram to see if it sparks ideas for expanding your audience and getting new subscribers. It's worth following the writers linked in the examples below on Instagram for ongoing inspiration.
---
Nailing the fundamentals
Let's start by covering the basic types of posts on Instagram and how those show up on the profile:
Post / Reel — these are permanent parts of your Instagram. Notably, there are no ways to add a link to these posts. Folks try to get around this limitation by using the caption or comment to direct followers to a "link in bio", or including a non-clickable URL on the image or video.

Stories — by default, these disappear after 24 hours unless you add them to a persistent story. Story posts can have a link added to them, making them crucial for sharing posts or noteworthy moments in your publication journey. It's also easy to share a Feed / Reel as a Story post (though some folks don't like to show the same thing twice to their followers).

Link on profile — many writers add a link to their publication on their profile, which is the most effective way to get new new subscribers. Other writers with multiple links will use a link-in-bio service (e.g., Linktree) and include a link to their publication on their link-in-bio page.
Often, people will click through to your profile to follow you on Instagram, presenting an opportunity to let new followers know about your publication and encourage them to subscribe. Below are a few excellent examples of writers — Jessica Reed Kraus, Leandra Medine Cohen, and Andy Adams — who link directly to their publications on their profiles.
These writers also use persistent stories (below the "Follow" button) to describe their publications and make it easy to find recent posts. The persistent stories have links to their publication or posts, making it easy for followers to subscribe. Andy Adams also uses the top row of his pinned posts to spotlight his About page and his Substack post asking photographers to send him their work.
Getting your profile set up is essential to turning followers into subscribers. Now that we know the basics and toured the profile page, let's explore how writers share from Substack to Instagram.
---
Sharing your Substack posts
One of the best ways to get new subscribers is to find a way to consistently and effectively share your Substack posts to social platforms. On Instagram, a simple starting point would be to share each post after it's published. Here are a few recent examples of Stephanie Danler, Jade Fox, and Lauren Clark sharing their posts to Stories using the shareable images Substack generates for each post: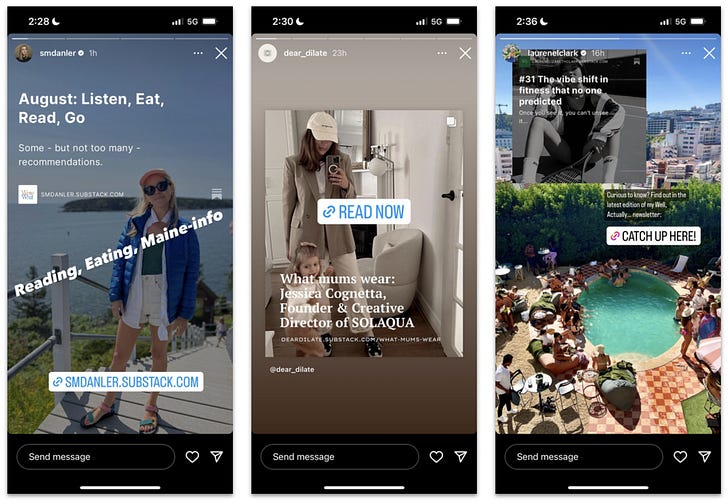 Some writers will share Substack posts to Instagram as posts, allowing them to surface outside Stories and remain in their feed. For example, Heated shares many of their Substack posts to Instagram, using screenshots of the post or even making beautiful custom images.
Sharing comments
Another great way to share posts is by highlighting comments from Substack. In doing so, a lot of writers point followers to Substack to join a more engaging, higher-quality conversation. Below are a few examples from Alisha Ramos, Leslie Stephens, and Jessica Reed Kraus sharing Substack comments to Instagram:
Re-sharing reader sharing
The best way for any post to spread on Instagram is through people sharing it. One loop that may be worth amplifying: when you see a reader sharing your work on Instagram, re-share it to your followers. Re-sharing the reader's post provides valuable social proof and gets your followers excited about sharing so they can be in the spotlight. Here's a great example of re-sharing from Diego Perez (aka Yung Pueblo):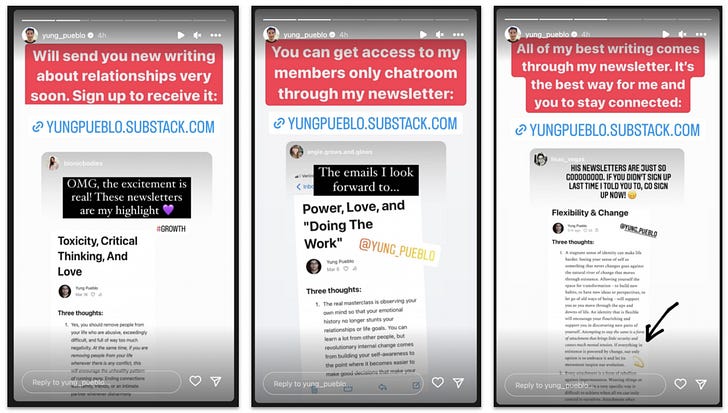 Caroline Chambers may be the best at motivating her readers to share to Instagram. After each What To Cook recipe goes out, a wave of people will share their meals to Instagram. Caroline does an excellent job of re-sharing and responding, inspiring readers to share in the future, and nudging her followers to subscribe so they don't miss the next recipe.
Ongoing value from sharing a post
The benefit of sharing Substack posts to Instagram can extend beyond the moment you publish your post. Let's go through a recent example from Evan Ross Katz. Evan starts by sharing a Substack post to Stories, though it's only available to paid subscribers — an unfamiliar concept on Instagram. So Evan wrote a lovely note about the extra value paid subscribers get (spicy takes!) and how their support funds the newsletter.
Over the next week, Evan re-shares some amazing examples of readers sharing his work to Instagram. He also finds out that Sarah Jessica Parker is a reader! Evan then shares a thank you note to the hundreds of new paid subscribers (showing his paid subscriber chart) and thousands of new free subscribers.
To close things out (at least for our example), Evan shares a note he got from a new paid subscriber, again taking the opportunity to welcome and thank all the new subscribers.
There's value in simply sharing your Substack posts to Instagram. But occasionally, you may have a post that gets a lot of attention and spreads through Instagram, providing ongoing value beyond the moment you publish the post. These lucky moments can be a perfect opportunity to lean in and drive step-function growth in Instagram followers and subscribers.
---
Maximizing the launch moment
While publishing a post presents a recurring sharing opportunity, the most significant moment to share is when you launch your publication. For writers with an existing audience, some of their biggest days of new subscriber growth happen right after launch. Let's check out a few examples of writers sharing their launch to Instagram.
The first example comes from Ben Lippett, who shared a beautiful series of images detailing the launch of How I Cook. He included what the newsletter was about, some example topics, how often he plans to publish, the extra value paid subscribers will get, and finished with a chef's kiss thank you. Ben could easily share this series to Stories with a link to subscribe to the publication.
Since Instagram is a visual-forward platform, custom images are fantastic, but certainly not required. Melissa Abbott did a superb job of launching 5 Things Friday using screenshots from her launch post. The Stories post outlines what the newsletter is about and what to expect as a free subscriber, paid subscriber, or founding member.
If you're comfortable in front of the camera, there's no better example of a launch video than the one below from Elizabeth Gilbert. It's a heart-warming, captivating video, winding through a reflection on the 20th anniversary of Eat, Pray, Love, the launch of Letters From Love, and the mission statement behind the newsletter.
No matter the approach, it's always important to take advantage of a launch moment and get your friends or followers to subscribe. The launch moment doesn't have to be right when you launch, and it can also include moments like when you turn on paid subscriptions. In any event, finding a way to share your launch to Instagram may help you get the most out of this critical moment.
---
Sharing noteworthy moments
Beyond your launch, there are other moments worth sharing along the way. One example is notable subscriber milestones, which show that tons of readers value your work. Below are a few examples from Shira Gill, Shane O'Mara, and Mason Currey calling attention to meaningful subscriber milestones:
Another great sharing moment comes from Farrah Storr, who featured a limited-time discount to Things Worth Knowing. Special offers are usually effective at converting free subscribers to paid, but the same can be true for getting your Instagram followers to go paid.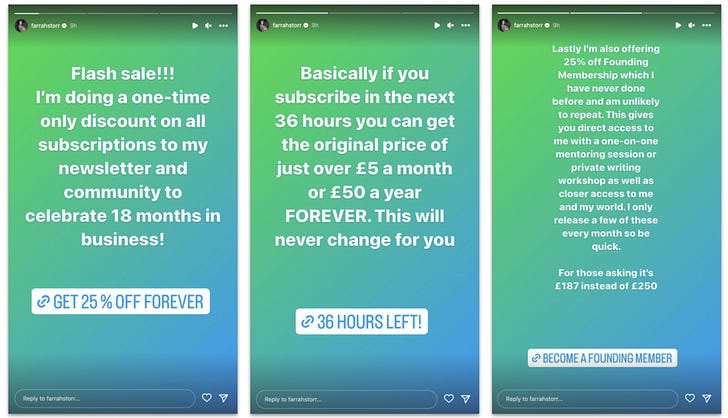 These are just a few examples of moments to share along the way — keep the idea of shareable moments in mind and follow your intuition on what works best for you.
---
Summary
At Hulu, Crunchyroll, and HBO Max, we had large teams focused on growing our followers on social platforms. These efforts were essential in growing our brand recognition and "top-of-funnel" audience, which would eventually turn into paid subscriber growth.
The same opportunity exists for Substack writers and other modern media businesses. Finding a way to consistently and effectively share to social can be a valuable growth channel and the best way to bring on new subscribers. Try to find a rhythm of consistent sharing that works for you, leaning on recurring sharing opportunities (e.g., publishing a post), or drawing attention to meaningful moments and milestones.
With its scale and influential product changes, Instagram has become an indispensable platform for building an audience. Even if Instagram isn't the most obvious fit for your particular publication, it's worth trying to find a way to consistently share to Instagram that drives some value (e.g., sharing podcast/video clips or selections from a text post).
That's all we got today — let me know what you think! If you're already sharing to Instagram, what have you learned? What works and what doesn't work? If you haven't shared to Instagram, what's holding you back? Did any of the examples above spark ideas?
As always, thanks for reading,
Reid